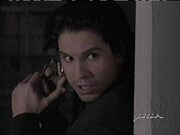 Carlos Sandoval is a police detective. He is a childhood chum and best friend of Trent Malloy.
Biography
Eary life
They both met when they were kids and teenagers.
Police detective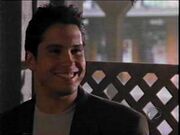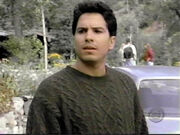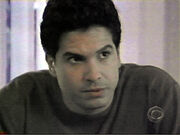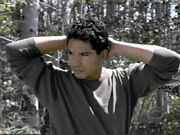 Carlos Sandoval is a rookie police officer in the Dallas Police Department and later got promoted to detective after helping Walker saving Trent's life from falling down to his death with Rod Barkley, a former Metro PD officer. Carlos is the same like Trivette always ending up in trouble with Trent. Carlos had a big brother named Hector Sandoval who got killed by a street drug dealer named El 'Vaquero when Carlos was only 12 years old. Carlos always loved to date younger girls in their early 20s but Trent only loves women. Carlos often sometimes helps Trent out on a P.I. (Private Investigation) case. Carlos has a younger sister named Theresa (Sandoval) Estrella who is divorced and has 1 daughter Carmen Lopez and 1 son Jesse Estrella. Carlos helped his nephew-in-law Hector Lopez whom Carmen got married to when Carmen and Hector were both 19 years old which really angered Carlos to accept their marriage. Hector at 1st got framed by his auto shop job boss Joey Dunbar for stealing from him and later the 2nd time Hector was released from prison after serving 1 year in prison, he was about to be picked up by Carlos but not long before his prison inmate gives him the drug dealing evidence that his inmate stole from one of the corrupt drug dealing Denton TX prison guards. Hector agrees to help him but the inmate got caught and killed by the prison guards and spot Hector witnessing his prison inmate's murders and chases after him but Hector manages to escape from prison to get away from the guards. Carlos was surprised to find out that his nephew Hector's release from prison was revealed that Hector was framed for the crime that he didn't commit of killing his prison inmate Eddie. He helps Carlos the 2nd time to clear his name and prove his innocence. Carlos' other nephew Jesse his niece Carmen's younger brother was framed for warehouse robbery and the murder of a Dallas Police Officer named William "Bill" Sadler. Jesse confesses and admits that he didn't do it but no else believes him except his uncle Carlos and Carlos' protege Ranger Cordell Walker. Walker and Carlos both cleared Jesse's name and proved his innocence. In the Walker Spinoff show Sons of Thunder Carlos resigns from the cop force after his female partner-in-crime was murdered by a psycho wacko killer while they were having lunch at the restaraunt together. Carlos becomes Trent's right-hand-man and partner and also becomes a P.I. (Private Investigator Detective) too. Together he and Trent form a private investigation firm.
Behind the Scenes
The detective was played by Marco Sanchez.