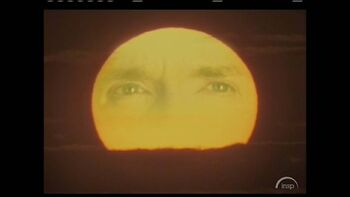 'The Eyes of a Ranger' is the theme song for the bulk of the Walker, Texas Ranger series. It was written by Tirk Wilder and performed by the show's star, Chuck Norris.
Lyrics
In the eyes of a ranger, the unsupecting stranger, had better known the truth from wrong or right
Cause the eyes of a ranger are upon you, any wrong you do, he's gonna see, when you're in Texas, look behind you, Cause that's where the ranger's gonna be
Trvia
In

Jacob's Ladder

, the song comes on the radio in Walker's 1995 Dodge Ram 1500 Club Cab SLT. Trivette dislikes the song, turning it off. Norris switches it back on, insisting that it's good.
Links
Theme tune[1]